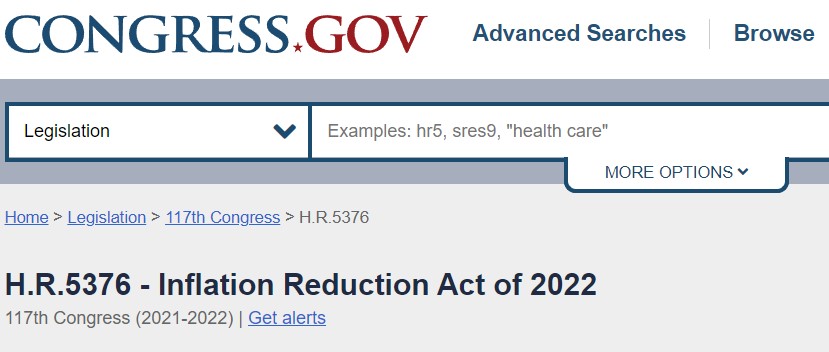 The Inflation Reduction Act, or IRA, was signed into law by President Biden on Tuesday, August 16, 2022. The IRA includes a broad package of health, tax, and climate change provisions. The new law contains climate and health care provisions that will benefit many people in America. Most analysts believe the IRA will lower prescription drug costs, health care costs, and energy costs.
Healthcare is very expensive relative to advanced industrialized countries. The United States' healthcare system is unique because it does not have a uniform health system. The United States does not provide universal health care coverage.
A mandate for healthcare coverage for almost everyone was enacted by the Affordable Care Act (ACA). The ACA is also referred to as Obamacare. Under the ACA, medical insurance premiums are subsidized by the federal government to lower premiums. Enhanced subsidies were adopted under the American Rescue Plan Act (ARPA). However, those were schedule to expire at the end of this year.
Under the IRA, the subsidies that were scheduled to expire by the end of the year have been extended until 2025. According to the U.S. Department of Health and Human Services, approximately 3 million Americans could have lost their health insurance if these subsidies had not been extended.
Also, significantly under the IRA, Medicare can now negotiate the price of certain prescription drugs. The ability to negotiate drug prices is one of the most significant provisions of the Inflation Reduction Act, as it will reduce the price beneficiaries will pay for their medication,
The IRA's impact on inflation will likely be minimal, but it will lower drug prices and reduce the budget deficit. This bill is designed to reduce the deficit and lower inflation while being able to invest in domestic energy production and lowering healthcare drug costs
Audible is Amazon's audiobook and podcast service that sells and produces spoken audio content.  Audible offers tons of content, including radio and TV programs. Audible also has a huge library of digital audiobooks.